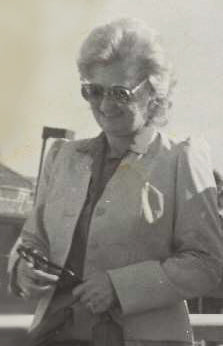 About Us
We are a small family-owned company started by my grandmother Hazel Donelson in 1991. My name is William Brasher, I am the operations manager of the current facility, and would like to take you on our journey back to the beginning where it all started to the present day.

Hazel was first introduced to the world of spices and seasoning blends in 1970 when she started working for Griffith Labs in Union City, Ca as a QC. At this time in 1980 Hazel went to work with former colleagues, at Associated Systems in Dublin, continuing to create seasonings and recipes for School Districts. During this time, in the early 80's Hazel put me to work helping my grandmother make samples.
In 1988 Hazel went to work for Everson Spice Co. in Southern California. She created seasoning for prepackaged meat that would be displayed in Albertson's and Lucky supermarkets in the meat department. I still made samples for her when Hazel worked on weekends and her husband Bill Donelson would help her at tradeshows.
In 1991 Hazel started her own company that was family run, Delta Spice Works Inc., in Union City, Ca. Her husband Bill became the mixer, packager, and would pick up ingredients they needed for all the seasonings she created. My mother Debbie Rumage would help with shipping and packaging. I continued to help package on the weekends. In 1995 Hazel moved the company to a bigger building in Pittsburg, Ca. Bill oversaw the warehouse and Debbie would do labels and accounting. I helped run the packaging equipment, batch formulas, and mix.
Our family was devastated by Bill's passing in 2000. Shortly after in 2001 Hazel moved the company to Newman, Ca where she had lived for many years as a child. I would take on more of a management role. My mother would still work in the office and Hazel would do what she does better than most, create seasonings for anything and everything. If you could think it, she would create it.
The family involvement continued to grow in 2003 when my Uncle Vince (Williams)left behind his career and many accomplishments after 20+ years to join his mother in the spice business and become what remains today, the owner and CEO of the Company. Hazel continued to be the creative genius behind the formulas and still is to this day. I was Operations manager until 2006 when I decided to take an extended vacation to drive truck cross country. I love to drive.
The company continued to go through many changes up to 2010 when the Company became Hi-west Foods Inc. In 2012 I met my future wife from Australia, Julie-Anne Williams while playing a video game on my phone during my rest breaks in the truck. We were to marry in 2015 and both return to Newman on the request of my grandmother and Uncle Vince. I became the Operations Manager and in 2016 Julie-Anne became the QA/QC for Hi-West Foods.

Over the years Hazel has created so many formulas it's hard to count. We've made and continued to make products for schools, prisons, restaurants, meat packing companies, and the list goes on, but never with our own brand. Chances are you have already seen some of our work and even tasted it.
It's now 2023 we continue to produce quality products at high standards for our customer base and their products. In 2021 we started the process of our own brand of seasonings for retail called Hi-West and are now ready. Life in the seasoning world has changed a lot since 1970 and we continue to change with it to maintain those high standards, not just for us, but for our customers and the end consumer.

We have great people in our extended family that work with us every day to make our many seasonings. Troy Tolbert and Robbie Roberson maintain our standards to ship quality products for all our customers. Chuck Silva keeps all our equipment running at peak performance. We are a family company and will continue to serve our customers for many years to come. We have been blessed with the opportunity to share our products with you and hope you enjoy them as much as we do. Thank you for taking the time to read a little bit about our family and how we got here.